Aintree Hospital patients contacted over virus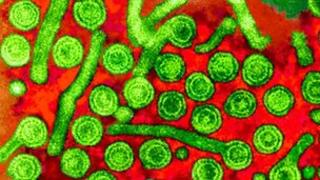 Hospital bosses are contacting 73 patients treated on the renal ward at Liverpool's Aintree University Hospital after one patient caught Hepatitis B from another.
A spokesman said the patients, who were treated on Ward 20 between 21 May to 24 June, would be tested next month as a precaution.
Health officials said there had been a low risk of catching the virus.
The patients affected have already been sent letters by the hospital.
Dr Gary Francis, Medical Director at Aintree University Hospital, said: "I would like to reassure all our patients that this incident affects a very small number of people."
He said the hospital was screening patients who had stayed on Ward 20 in this period as well as a handful of day patients.
Dr Francis added: "Patients who have not received a letter from us by now will not be at risk of contracting the virus."
He said the hospital was working with the Health Protection Agency (HPA) and had put extra infection prevention measures in place.
Hepatitis B is a liver condition spread through infected blood and body fluids.