Liverpool Cathedral in People's Path invitation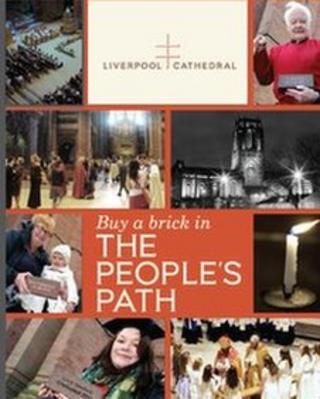 People are being invited to make their mark on Liverpool Cathedral.
As part of the People's Path project, people are being offered the chance to buy a brick with their name and important date or message inscribed on it.
The bricks will be placed in a path which will stretch outside the front door round to the Lady Chapel.
The authorities at the Anglican cathedral hope the People's Path will attract visitors and raise money.
'Symbol of Liverpool'
Canon Myles Davies, the cathedral's acting dean said, "We hope that the People's Path will become a rich tapestry, detailing life in, and connected to, Liverpool, and featuring people from all walks of life, from all over the world and all with their own connection to the cathedral and the city.
"For many the cathedral is their symbol of Liverpool, and now they can literally be a part of it."
Rita Delves, who bought a brick to mark her granddaughter's christening at the cathedral, said: "I wanted to mark Erin's christening in an unusual way, and as she gets older, she will be able to visit and see her name on show at the cathedral.
"If she ever moves away, I hope it will give her a feeling of grounding and belonging to the city of Liverpool."
All proceeds go to the Cathedral Foundation, which helps keep the cathedral free to visitors and supports its development and community work.