Sensory garden planned for Calderstones Park in Liverpool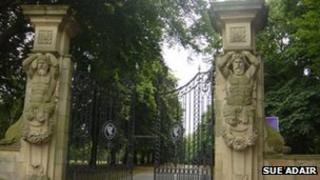 A sensory garden for children and people with disabilities is to be created in an area of Liverpool's Calderstones Park.
The garden, which replaces a derelict greenhouse, will include specially selected plants and landscape features to stimulate the five senses.
The area is being developed as part of Liverpool's Decade of Health and Wellbeing 2020 which aims to encourage healthier lifestyles.
The garden will open in Spring 2012.
Tim Moore, Liverpool city council cabinet member for the environment and climate change, said: "Natural environments such as parks are already recognised as being beneficial to our health.
"Creating a special sensory garden in the park will give this effect an extra boost and will be of particular benefit to disabled people."
A combination of sound, water, air, wildlife and the texture and smell of plants will make up the sensory experience of the garden.
The £30,000 cost of the garden is being funded by a government scheme to enable and enhance facilities for disabled children.