Hillsborough: Criticism of SFA standing areas plan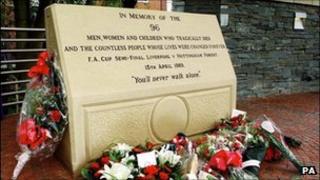 Families of the 96 Hillsborough disaster victims have criticised the Scottish Premier League for approving the reintroduction of standing areas.
Scotland phased out standing areas in the 1990s, but is not bound by the law banning them which came into force after the Taylor Report.
The Liverpool fans were crushed to death in a standing area of the Hillsborough stadium in 1989.
Relatives believe standing areas should never be used in stadiums again.
Margaret Aspinall, who lost her son James at Hillsborough and is chairwoman of the Hillsborough Family Supporters Group, said: "It's not only about the 96 people who lost their lives, but there were disasters well before that. There was Bradford and there was Ibrox.
"You can go back in time and an awful lot of people have lost their lives.
"But this is not about the people who have died because unfortunately we can do nothing about that - this is about the people who are living that we're concerned about.
"If people think [tickets] will become cheaper because of stands then they are kidding themselves.
"It will not go cheaper and that's when it becomes very, very dangerous."
All-seater stadiums became compulsory in England in 1994.
The Scottish Premier League announced a relaxation of its rules on standing following a general meeting of all 12 clubs on Monday.
The league's chief executive Neil Doncaster said the move came in response to supporter demand.
Lord Justice Taylor's inquiry into the disaster, which reported in 1990, also criticised senior police officers on duty at the match for a failure of crowd control and recommended the introduction of all-seater stadiums.