Joshua Jones inquest: Two-year-old's death 'avoidable'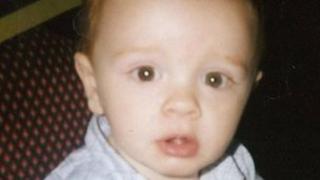 A coroner has said the death of a two-year-old boy from Cheshire in 2007 could have been avoided if police and social services had acted differently.
The inquest into the death of Joshua Jones, from Runcorn, recorded a verdict of unlawful killing.
Joshua, who was killed by his mother's boyfriend Wayne Davenport, had been released from hospital with multiple injuries five days before he died.
Davenport was jailed for six years for manslaughter in 2009.
Joshua's mother, Nicola Bowman, was convicted of causing or allowing her son's death and was given a suspended sentence.
'Constellation of injuries'
Recording a verdict of unlawful killing, Cheshire coroner Nicholas Rheinberg said: "Joshua's death probably would have been avoided if the three agencies concerned with his safety (Warrington and District General Hospital, Cheshire Police and Halton Borough Council) had taken steps which did not involve returning him to an unsafe environment."
The inquest at Warrington Town Hall heard the boy was released from hospital with multiple suspicious injuries days before he was killed and he had suffered months of physical abuse at the hands of Davenport.
Joshua's mother had lied to social workers about Davenport living with her, the inquest was told.
On 26 October 2007 the two-year-old was taken to Warrington General Hospital by his mother and grandmother with a broken arm and a "constellation of other injuries", including bruises all over his body.
After a stay in hospital, and despite his injuries "ringing alarm bells" with numerous doctors, social workers and police officers, he was allowed back into his mother's care.
The coroner said he accepted that lessons had been learned, particularly at Cheshire Police, but that he would be writing to Halton Borough Council and the director of nursing at Warrington Hospital regarding specific issues.
Audrey Williamson, independent chairwoman of Halton Safeguarding Children Board, said: "We are going to study very carefully what the coroner has said."