Collection for murdered Huyton shop worker stolen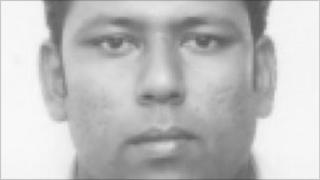 Thieves stole a collection box full of cash donated to help the family of a murdered shop worker on Merseyside.
The box was taken from the counter of Stanley News in Huyton, where Mahesh Wickramasingha, 30, was stabbed to death last month.
It had been set up to raise money for his wife and two children, who he supported back home in Sri Lanka.
Police want to trace two white youths, aged about 16, after the box was stolen at about 09:45 GMT on Sunday.
Officers said one teenager bought something while the other took the box from the counter.
Insp Paul Sutcliffe said: "This is a despicable crime and we urge anyone with any information about who is responsible to call us so we can take action.
"Members of the community had generously given their money to help the family of Mr Wickramasingha, who have been left without a son, a father and a husband.
"Mr Wickramasingha would send his earnings home to his family and they will be deeply affected by his loss. The money being collected for his family would have been a great help to them and we are appalled that these callous people have stolen this cash.
"I ask anyone with any information about this incident to call us."
Sam Harrison, 19, of Salerno Drive, in Huyton, has been charged with Mr Wickramasingha's murder.