Kirkby park renamed after fallen soldier Mark Burgan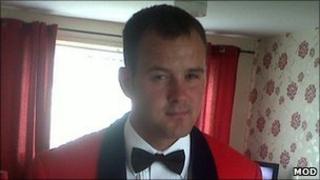 A Merseyside park is to be renamed as a tribute to the local servicemen and women who have lost their lives.
Wignall Park in Kirkby will become known as Memorial Park after an official ceremony in March.
The idea came after the death of Irish Guard L/Sgt Mark Burgan, 28, from Kirkby, who was killed by a roadside bomb in Afghanistan in March.
Hundreds of people gathered in the park a week later to release 2,000 Chinese lanterns in his memory.
The proposals, which include putting commemorative signs at each of the park's entrances, have been backed by local councillors and the community.
Eddie Connor, cabinet member for leisure, community and culture, said: "Mark was an extremely well-liked and much-respected character locally.
"His death had a real impact on the town and we have all felt that a lasting tribute would be a fitting way for local people to remember Mark and other heroes we have lost.
"This is a small way in which we can thank people like Mark and remember all those in the armed forces, who sacrifice so much for us every day."
The park will officially be renamed on 23 March to coincide with the anniversary of L/Sgt Burgan's death.