Mersey Bowmen tennis club saved by Olympic legacy funding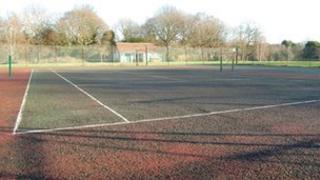 One of the country's oldest tennis clubs has been saved from closure by a grant from the Olympic legacy fund.
Mersey Bowmen Lawn Tennis Club, based in Liverpool's Sefton Park, has been awarded £47,000 by Sport England
The grant will be used to resurface four tennis courts and replace fencing at the club.
Mike Jackson, from Mersey Bowmen, said without the funding for repairs the club, which was founded in 1781, "couldn't have kept going".
'Desperate straits'
The club started as an archery club called the Toxteth Archers.
Mr Jackson said: "The current courts are a porous tarmac but they have deteriorated over the last 25 years.
"They're very crumbly and they're quite dangerous to play on now.
"The club has been in desperate straits for the last few years and we couldn't raise the money to resurface them.
"Unless you've got another source of income like a flourishing bar, which we can't have in Sefton Park, then you can't generate much money.
"With all the Lawn Tennis Association grants and Lottery money, you have to put 50% up yourselves.
"We've been lucky to get this particular grant which is able to keep us going."