Minton tiled floor at St George's Hall to be revealed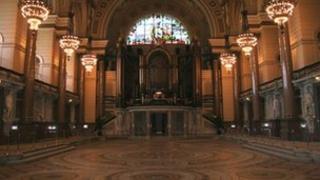 A rarely-seen Minton tiled floor at Liverpool's St George's Hall will be displayed to visitors in the new year.
The handcrafted mosaic of over 30,000 Minton tiles was laid in 1852, but covered by a wooden floor in the 1860s to allow for dancing and events.
It has only been uncovered for public viewing on a limited number of occasions since.
The floor will be open to visitors, for a £1 admission fee, from 7 to 22 January, 2012.
The tiles were handmade at Minton Hollins factory in Stoke-on-Trent. The firm also tiled the floor of the US Capitol Building in Washington.
St George's Hall, a Grade I-listed building, was constructed between 1841 and 1854 to house Liverpool's law courts and concert rooms.
The building was restored in 2007 with a grant from the Civic Trust and reopened by Prince Charles.