Liverpool councillors recommend bar and pub ban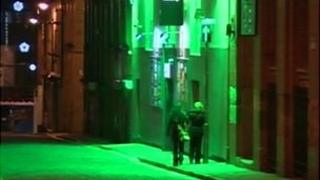 Councillors in Liverpool have recommended a ban on new licences for bars in two areas of the city centre.
The council's licensing and gambling committee has proposed restrictions on licences for new bars in the Ropewalks and Cavern Quarter areas. The move will be voted on by the full council.
The number of licensed premises has risen from 498 in 2007 to 683 in 2011.
Merseyside Police had warned any awarding of new licences could "see a rise" in alcohol-related crime.
The force also warned of "a clear knock-on effect" for policing in other areas if more resources were needed for the city centre.
The committee looked at a range of options from taking no action to restricting new licences in individual zones or across the whole of the city centre.
The Cavern Quarter and Ropewalks area are the two main areas of the city centre's night life and both have developed considerably in the last decade.
'Problems of violence'
In a submission to the council, Merseyside Police's area commander Ch Supt Jon Ward said: "It is clear that the city centre dynamic has changed, now being a 24-hour city, we are forced to keep officers on later as premises remain open well past 'normal' 04:00 closing hours.
"We are keen that the number of licensed premises does not continue to increase and thereby undermine some of the excellent progress that has taken place to make Liverpool the vibrant and safe city it has become."
Nick Small, Labour councillor for the city centre Central ward, said: "The problems of violence, noise nuisance and environmental problems could increase unless the council uses new types of interventions and looks at the issue in a different way.
"We do already have these policies in place in two other parts of the city in Lark Lane and Allerton Road.
"If we want to continue to have a strong night time economy and visitor economy then we need to look at new ways of addressing this.
"If we do nothing in two or three years people will be asking what went wrong with the night time economy."
Lee Le Clercq, from the northern branch of the British Beer & Pub Association, said: "Alcohol-related violent crime and disorder has been reducing nationally so it is particularly disappointing if Liverpool is bucking that trend.
"As a society we do need to review the night time realm. It is dominated by pubs and bars."