'Grave concern' for Ince Blundell sculptures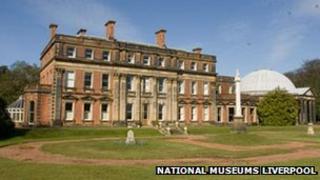 National Museums Liverpool (NML) has said it is "gravely concerned" that a collection of Roman sculptures at a Grade II-listed building could be sold.
The 18th Century sculptures are at Ince Blundell Hall in Crosby, Merseyside, now a nursing home run by nuns.
The nuns have asked for the Grade II listing to be lifted so that the sculptures can be removed and restored.
However NML said without the listing, the items - which "were gifted to the people of Liverpool" - could be sold.
Steve Judd, director at NML's World Museum, said: "As far as we are concerned, all the moveable ancient marble was gifted to the people of Liverpool more than 50 years ago.
"We have some of the pieces on display in the Walker Art Gallery and at World Museum, while the rest remains in our safekeeping or at Ince Blundell Hall.
"We are gravely concerned to hear reports about plans to sell part of this collection."
The Augustinian Canonesses, who run the site, were contacted but have yet to comment on whether or not they plan to sell the sculptures.
The application to have the antiquities removed was made to Sefton Council, which said it would make a decision by 8 February.