Wirral's Hilbre High School shut after winds damage roof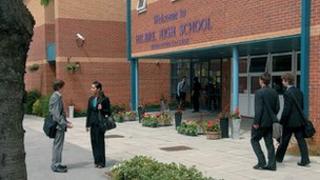 A Wirral school has been closed after strong winds damaged the building.
Engineers were called to Hilbre High School after staff noticed damage to a metal corrugated roof.
The school in Frankby Road, West Kirby, will stay shut until Monday.
A spokesman for Wirral council said: "The school is closed... and will be closed on Friday because of a problem with the roof. They have got a structural engineer and a weather-proofing engineer there as well."
The extent of the damage is still unclear and the school is waiting for a report from the engineers.
Merseyside Fire and Rescue Service had 33 weather-related calls between 17:00 GMT on Wednesday and 14:30 on Thursday, a spokesman said.
At least eight of the calls involved fallen trees.
Firefighters were called out after a tree fell on a car with three women inside in Thornton, near Crosby, shortly after 21:00 GMT on Thursday.
The women escaped from the vehicle before crews arrived and were checked by paramedics before being taken to hospital.
In Aintree, a piece of billboard came loose and was left dangling dangerously. Firefighters attended and secured the billboard.
A spokesman said: "Our fire crews and our search and rescue teams had a busy time due to the winds that battered Merseyside, responding to a variety of weather-related call-outs and helping those in need."