Everton footballer Louis Saha racially abused on Twitter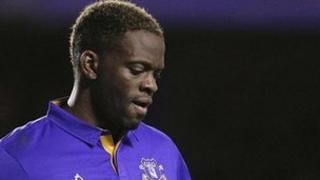 Everton footballer Louis Saha, received racial abuse on Twitter after a fan's account was accessed without permission, the player has revealed.
Saha, 33, retweeted the racially abusive message which was sent to him on 4 January with his own comment saying: "Don't attached urself with the club. U disgrace."
He said the message was sent without the user's knowledge by a colleague.
Saha also said the abuser had been suspended from his job.
A spokesman for Everton said officials and police were aware of the incident and a "thorough and proper" investigation was taking place.
On Friday, Oldham defender Tom Adeyemi broke down in tears during the teams FA Cup game against Liverpool at Anfield after apparently being subjected to racist abuse from a supporter in the stands.
A 20-year-old man was arrested and bailed for allegedly racially abusing the player at the match.