Wellington Dock waste plant £200m extension approved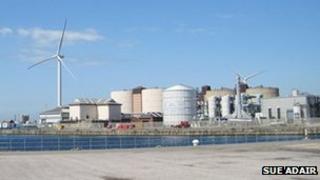 Plans for a £200m extension to a waste treatment plant on the River Mersey have been approved by Liverpool City Council.
United Utilities has been given the go ahead to extend its Sandon Dock plant into the redundant Wellington Dock.
The company said the new development could create 350 jobs.
Dredging of Wellington Dock has already started and work on the plant is scheduled to take four years to complete.
It will mean the plant can serve one million people from Crosby to Speke and deal with 11,000 litres of waste a second.
United Utilities principal project manager, Mark Walker, said: "Our existing plant has played a key role in the clean up of the River Mersey and the new works will ensure we can continue to build upon that legacy.
"The expansion of Liverpool as a city down the years meant the current works were beginning to reach the end of their useful life.
"The new works will ensure we can continue to provide one of the city's most essential services for many years to come."
The treatment facility, based on successful plants in other coastal cities, such as Cardiff and Dublin, will be sunk into Wellington Dock and coping stones, dock features and furniture will be retained where possible.
A mural, to be designed by local schools, will also feature on the river-facing side of the new development.