Wirral Council adult social care had 'serious failings'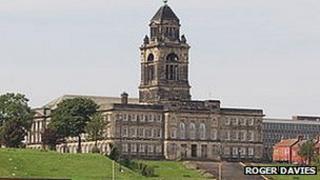 A report into a Merseyside council's adult social care has found 16 adults with learning difficulties were overcharged for services for years.
Wirral Borough Council was also criticised for the treatment of former council worker, Martin Morton, who blew the whistle on the overcharging.
Council leader Steve Foulkes said he would "do everything in my power" to improve council services.
He said he accepted serious failings were made.
"I do not ever want to find the council in the position where staff are penalised for identifying failings or feel unable to speak out, or where the needs and rights of vulnerable people are compromised," he said.
Ignored and bullied
The Independent Review of Wirral Metropolitan Borough Council's Response to Claims Made by Mr Martin Morton (and Others) looked at allegations made by Mr Morton while he was working within the council's adult social services department in 2001.
He claimed services which the adults paid for, such as being dressed in the morning and being put to bed, had been vastly overpriced and that the council had not reviewed the charges.
He also alleged bank accounts were set up in their names, allowing their benefits to be removed without their permission.
When he brought the allegations to his bosses, Mr Morton said he was ignored and that he was forced to give up his job in 2008 because of bullying.
Following his departure, the council offered him a £40,000 settlement to keep quiet, but Mr Morton went to the media with his claims.
In 2010, Wirral Council admitted it had made a mistake and made a payout of £244,000 for overcharging since 2000, but the report said this did not go far enough and it needed to look at paying out for charges made before that time.
It said the council had made "a myriad of errors", both in its treatment of the allegations and of Mr Morton.
With regards to Mr Morton's claims, the report said "discrimination had occurred" and that the council had failed to act on his concerns.
It said previous reports by the Care Quality Commission and under the Public Interest Disclosure Act should have "come as no surprise" to the council and, with regards to adult social services, it needed to perform an "effective implementation of the recommendations set out".
'No quick fixes'
Amongst those recommendations were weekly monitoring of processes, a new social work supervision policy and new safeguarding policies and procedures.
In response to the report, Mr Foulkes said there were "no quick fixes" to the problems which had been highlighted.
"New safeguarding procedures have been devised and implemented that focus on partnership working and quality.
"We have also set up a committee to tackle some of the wider corporate issues identified in an earlier report as a result of failings identified in the course of the investigations.
"I am absolutely determined that Wirral should become the excellent authority that the people of Wirral deserve and will do everything in my power to ensure we do not face a situation like this again."