Liverpool hospital health worker read in-laws' files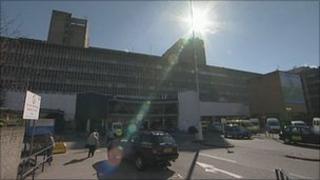 A former healthcare assistant from Merseyside has admitted illegally accessing medical records of her ex-husband's family so she could make nuisance phone calls.
Juliah Kechil, who worked at the Royal Liverpool University Hospital, looked up details of five people between July and November 2009.
Kechil, formerly known as Merritt, was convicted under section 55 of the Data Protection Act.
She was fined £500 with £1,000 costs.
She was also ordered to pay a £15 victim surcharge.
The hospital had audited its computer system following a complaint from Kechil's former father-in-law.
He had contacted the hospital when, having changed his phone number in July 2009, he received unwanted calls from Kechil.
The audit found Kechil had used her swipe card to look at the details of the individuals who were not under her medical care.
'A serious offence'
A spokesman for Royal Liverpool and Broadgreen University Hospitals NHS Trust said: "We take data protection and the confidentiality of our patients very seriously.
"We thoroughly investigate any breaches of data protection and ensure that necessary disciplinary action is taken.
"This member of staff is no longer employed with us."
The Information Commissioner's Office head of enforcement Steve Eckersley said: "Unlawfully obtaining other people's information for personal gain is a serious offence which can have potentially devastating effects.
"Ms Kechil accessed medical records for entirely personal reasons. The breach of their privacy would obviously have been very distressing for the individuals involved.
"People should be able to feel confident that their personal details will be stored securely and only accessed when there is a legitimate business need.
"We will always push for the toughest penalties against individuals who abuse this trust."