Gymnast Beth Tweddle visits Merseyside schools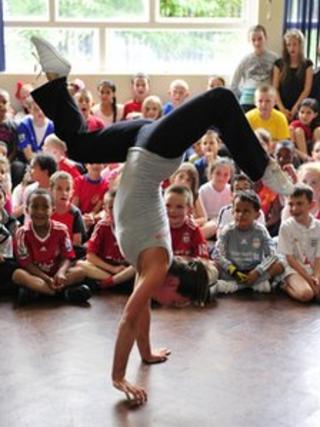 World champion gymnast Beth Tweddle has been in Merseyside hoping to inspire children to get involved in gymnastics.
The Olympic sportswoman from Cheshire was at Birkenhead High School, Wirral, which is to be the host venue for a new Total Gymnastics Beth Tweddle Academy.
She said wanted to inspire future Olympians and provide "as much opportunity for children to take part in gymnastics as possible".
The Beth Tweddle Academy is aimed at children aged four to 11 years old.
Ms Tweddle said: "The aim of these academies is to give young children the opportunity to try a new sport and help develop their skills by learning the basics of gymnastics.
"When I was younger I had to travel to get to my sessions, so we are trying to make gymnastics more accessible to give everyone that chance.
"Birkenhead High School Academy have been incredibly supportive of us and have helped us set up this academy and get the children involved so it was great to come and meet them all today."
In 2010 Ms Tweddle was made an MBE for her success, commitment and dedication to gymnastics.
Tweddle won golds at the 2006 and 2010 World Championships on the uneven bars and the 2009 World Championships on the floor.
If she takes part in this year's London Olympics, it will be her third Games, having competed in Athens and Beijing.