The Liverpool Post prints first weekly paper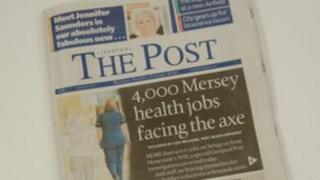 The first edition of a weekly paper, in place of the 156-year-old Liverpool Daily Post, has been launched.
The Liverpool Post, which will be published every Thursday, replaces the daily edition which printed its final copies on Friday.
The 100-page paper includes extended business and culture sections.
Editor Mark Thomas said the paper had always adapted "to match the challenges of the times" and this was an "exciting new chapter".
The National Union of Journalists (NUJ) described the move as "a real gamble".
Titles merged
The Liverpool Daily Post was first published in the city on 11 June, 1855, at the price of a penny per copy.
In December owner Trinity Mirror announced the paper would end daily production resulting in the loss of six posts.
In its latest Audit Bureau of Circulation figures, the Liverpool Daily Post had a circulation of 8,217 copies.
The Post's sister paper The Liverpool Echo will continue to be published daily.
Free weekly titles the Bootle Times, Merseymart and Star have ceased production and have been merged into two new community papers which will be inserted into the Liverpool Echo's Tuesday edition.