Liverpool's Alder Hey Hospital recalls 600 children for hearing tests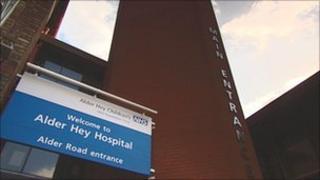 Hundreds of children are being recalled for medical hearing tests at Liverpool's Alder Hey Hospital.
The hospital said it had become aware that a child assessed by a doctor as normal was later found to have profound hearing loss.
An investigation found nine patients assessed by the same doctor were misdiagnosed.
The hospital has identified 600 children tested between February 2007 and April 2011 who need further tests.
The trust said they believe the risk of misdiagnosis is low as the patients had also been seen by other doctors.
The doctor, who left the hospital in April 2011, has been referred to the General Medical Council.
The hospital is currently in the process of contacting all relevant patients and their families.
Medical Director Professor Ian Lewis said: "We regret that we have become aware of a number of patients whose hearing loss had been previously undetected despite testing.
"Alder Hey has taken this incident very seriously and immediately launched a full internal investigation.
"I would like to apologise on behalf of Alder Hey for any distress caused to patients and families but would like to reassure them we will do everything possible to deal with this as quickly as possible in order to ensure their health."
Alder Hey's Audiology Department carries out hearing tests on children from Liverpool, Sefton and Knowsley.
A helpline has been set up for families who may have concerns on 0151 252 5913 or 0151 252 5316.