Joseph Cummins shooting: Family appeals on anniversary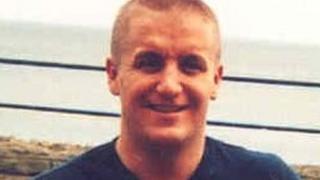 The family of a man who was shot in the back on a Liverpool street have appealed for help in catching his killers, a year after his death.
Joseph Cummins, 25, collapsed after he was shot repeatedly on Longmoor Lane, Fazakerley, on 20 January 2011. He died later in hospital.
His mother Carol Cummins said the family wanted people to "come forward with any information at all".
Six men were arrested but nobody has been charged with the shooting.
'Family wrecked'
Mrs Cummins said: "Someone must know something.
"Tell the police anything you know, just get in touch. Imagine what we as a family are going through.
"Your mums have you, we haven't got Joseph any more."
Mr Cummins sister Leah said: "I think about him every day, even when I'm asleep I dream about him, I just wish he was here.
"He was my lovable brother and he's been taken from us.
"His nephews Lennon and Frankie doted on him and all they've got now is a star in the sky.
"It feels like someone has robbed him from us; the family is wrecked."
In 2009 Mr Cummins was shot in the back in nearby Gribble Road, Merseyside Police said.
No arrests were made in connection with that attack and police are not linking the two shootings.