Kate Mott murder: Merseyside Police apology to family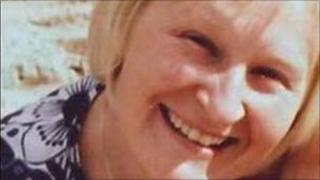 Merseyside Police has apologised to the family of a woman who was murdered by her husband for its repeated failure to handle her calls to police properly.
Kate Mott, 35, of Southport, was found dead in a car on 21 January 2010.
Her husband, Brent Mott, was convicted of her murder in August 2010.
The Independent Police Complaints Commission (IPCC) said Mrs Mott "did not receive the level of service she was entitled to" in her calls to police.
Mrs Mott was raped and strangled by her husband at their home while the couple's two young children slept upstairs.
He then drove her body to a field in Scarisbrick, Lancashire, before damaging their Ford Focus in an attempt to make it look as though she had died in a car crash.
Mott, a nurse, was sentenced to a minimum term of 25 years for the murder.
'Terrible tragedy'
Mrs Mott had obtained a non-molestation order against her husband at Southport County Court in November 2009. The couple were involved in divorce proceedings.
Merseyside Police had received a copy of the order but the IPCC investigation found processing errors with the document, which was not put into the computer system used by call handlers.
Call centre workers and officers failed to grasp the seriousness of the non-molestation order and treated her complaint as a case of "adults quarrelling over divorce proceedings", the IPCC said.
A police officer also told her she should contact her solicitor rather than police.
Naseem Malik, IPCC Commissioner, said: "The murder of Kate Mott was a terrible tragedy. She was trying to escape an oppressive and abusive relationship.
"She had taken the appropriate legal steps to protect herself, but when she turned to Merseyside Police for assistance she clearly did not receive the level of service she was entitled to.
"In our opinion there were failings at each stage of the contact and in particular the way the police officer handled the call with Mrs Mott raises significant concerns."
A spokeswoman for Merseyside Police said: "It is clear that, in this case, the processes and training we had in place at that time fell short of the required standard.
"We are now confident that the changes we have put in place have led to a greater understanding of non-molestation orders."