Woolton Baths awarded Grade II-listed status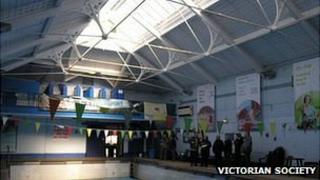 A swimming pool in Liverpool, where John Lennon swam as a child, has been awarded Grade II-listed status by English Heritage.
Woolton Baths, on Quarry Street South, was built in 1893.
It closed to swimmers in October 2010, but a local community group now wants to buy the pool and re-open it.
The Victorian Society said the listing would give the swimming pool some protection from demolition or unsympathetic change.
Dr Ian Dungavell, from the society, said it was "wonderful news".
"Woolton Baths is a rare surviving example of a public swimming pool built to serve a local village community, and despite being more than 100 years old it remains remarkably intact," he said.
The sandstone exterior of the pool is little changed and inside the building the original wrought iron and timber roof still remains, along with a balcony, 19th Century Minton tiles and a ceramic scum channel.
Dr Dungavell said: "We would now like to see this pool celebrated and brought back into use."