Mersey Bar lightship Planet to be hotel in Liverpool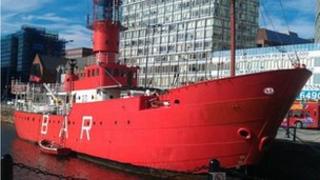 The Mersey Bar lightship which is moored in Liverpool is set to open as a floating B&B.
The owner of the Planet, which served on the Mersey until 1972, has applied for permission to turn the 137ft vessel into tourist accommodation and a bar in the city's Canning Dock.
Owner Alan Roberts said the ship was "iconic" and "historically important".
He said: "It has drawn a lot of attention and I really want people to be able to come aboard and enjoy it."
The Planet was built in 1960 and lit the way for vessels entering and the leaving the River Mersey up until 1972.
Mr Roberts, who bought the ship in 2009, originally opened the vessel as a cafeteria last year but it closed after a few months over a planning issue.
He said: "I first wanted to open it up as a tourist attraction and put a small cafeteria in, but as I looked at the scope of what could be done I decided to apply to do something special and I came up with the idea of the bed and breakfast.
"We will have eight rooms which are quite quirky - the original beds and bunks are still there.
"The top deck is completed and we hope to have the lower deck completed this year."
'Full of history'
Mr Roberts, who has restored the ship, said he also wanted to open the boat as a heritage centre.
"The boat is full of history," he added.
"She served ships from all over the world - guiding them through to the Liverpool docks when she was on station at the Mersey Bar.
"She is the last of the double-riveted ships built and when I saw she was up for sale I saw her and loved her. I knew it would make a brilliant project."
If the plans are approved, the vessel will open to the public immediately.