Recovery movement helps addicts kick the habit in Liverpool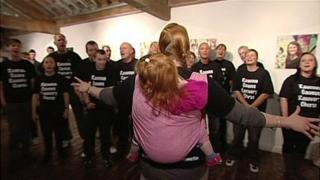 "Ah boom chikka boom!" sings the choir leader. "Ah boom chikka boom! " sing back the twenty or so members of the choir.
The Raucous Caucus Recovery Chorus is made up mainly of former drug users and alcoholics from Liverpool.
They rehearse in a small room at an addiction charity office and you have to be sober to sing: all members pledge that they've been off drink or drugs for at least 24 hours.
Being in the choir is part of the treatment for these former users, doing something normal like singing with other people.
But the choir has a wider significance as the public face of a new programme in tackling addiction called Recovery - a movement in which Liverpool is playing a leading role.
Rather than manage an addiction with drug substitutes or controlled drinking, people go through detox and then practise total abstinence.
'Animal existence'
Drink-related deaths in the North West are among the highest with men accounting for two-thirds of such deaths in the UK.
And figures released by the Office for National Statistics (ONS) show the problem is getting worse.
More people in the UK died from alcohol-related conditions in 2010 than in 2009 with the figure rising by 126 to 8,790 from 8,664.
But to understand why Liverpool is leading the way in this new idea, we need to go back in time.
In the 1980s, it was one of the cities to bear the brunt of a new drug problem - the arrival of brown powder heroin.
Addicts stole to feed their cravings, and transmitted HIV and other infections by using dirty needles.
To cut crime and improve health, Liverpool was one of the first places to pioneer harm reduction treatments.
Users were prescribed methadone to keep them off heroin. It worked, but many people spent years on methadone, and remained addicts.
Raucous Caucus singer Colin used drugs for 22 years, and was on methadone for 17.
"I'd have done anything for my drugs." he said. "I lived an animal existence."
Now, being in the choir is vital for him.
"I love it," he said. "It's really positive for me."
Children of addicts
The idea of Recovery, of staying off drink and drugs for good, has been around for some time.
It started in America, but is now taking hold in the UK.
Liverpool is still a relatively poor city with high unemployment and poor housing which partly explains why drug and drink addiction is so high; there are twelve Alcoholics Anonymous meetings here every week.
It also explains why Liverpool is at the forefront of the movement in England.
Jacquie Johnston-Lynch, of Action on Addiction, said: "Liverpool has the highest number of [Recovery] Fellowships per head of population in Europe."
Liverpool was where the UK's first Recovery March took place in 2009 and Action on Addiction has opened an alcohol-free bar called The Brink.
But the idea of "Recovery" has sparked furious debate in drug treatment circles.
Some don't like the idea of users taking more responsibility for their own treatment.
Mark Gilman, leader of the NHS Treatment Agency, said: "In the Land of Recovery, it's the guinea pigs that wear the white coats."
But Martin says Recovery is important because it could put an end to the problem where the children of addicts become addicts themselves.
"If you get this right, you're the firewall between the intergenerational transfer of addiction," he said.
"It sounds grand, but that's the prize on offer."