Knowsley council reviews Sonae Kirkby factory after fire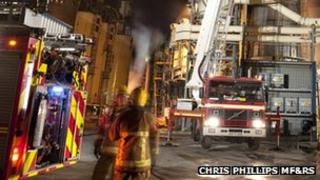 The future of a chipboard factory in Knowsley is to be reviewed after a second fire in less than a year.
Ten tonnes (9.8 Tons) of sawdust caught light on Thursday at Sonae UK in Kirkby where another fire blazed for eight days last year.
In December 2010 two men died at the factory when they were dragged into a wood chipping machine.
Knowsley Council said it was taking the the latest fire at the plant "extremely seriously".
Firefighters took five hours to get the blaze under control.
Sonae said its internal safety systems stopped the fire from spreading and it was now trying to find out what happened.
'Safety is priority'
Knowsley MP George Howarth, who has previously called for the factory to be closed, said "in view of these incidents" the council should "rescind" the company's environmental permit.
A spokeswoman for Knowsley Council said: "We take extremely seriously the latest incident at Sonae and are currently in discussions with the Health and Safety Executive about the future of the factory."
Nigel Graham, managing director, Sonae Industria (UK) Ltd, said: "Our safety systems activated immediately, stopping the fire spreading with the internal sprinklers preventing damage to the equipment by extinguishing it quickly.
"There have been reports of two explosions, we would like to clarify and reassure people that these were in fact part of the safety system kicking in, to diffuse the pressure caused by the fire, helping to manage it in a controlled manner."
He continued that "a thorough investigation" was underway and the safety of staff remained "paramount".