Liverpool council go-ahead for leisure park in Speke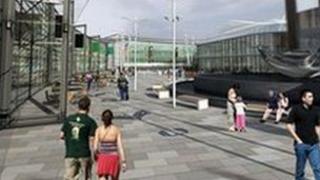 Plans for a major leisure development in south Liverpool have been approved by the city council.
The New Mersey Leisure complex in Speke will create about 320 jobs. It includes a seven-screen cinema, 78-bed hotel, a fitness centre and restaurants.
Belfast-based developer Benmore Group expects the park, on a six-hectare (14.8 acres) site, to contribute about £5.5m a year to the local economy.
The land is currently used as a freight terminal by Ford and Jaguar Land Rover.
The plans had been opposed by the car manufacturers who warned the loss of the leased freight terminal could threaten 200 jobs.
'Significant regeneration'
About 400 jobs will be created during the construction programme for the park.
David Burrows, chief executive of Benmore Group, said: "We are committed to working with all stakeholders to ensure this project is delivered on time and on budget, with minimum disruption to existing businesses using the site and maximum benefit to the people of Speke Garston.
"The New Mersey Leisure scheme will transform a key gateway into the city and represents, in the current climate, one of the city's most significant regeneration projects for the next decade.
"We expect to begin work on the site later this year, with completion in early 2013."