Nurses concerned over Alder Hey restructure plan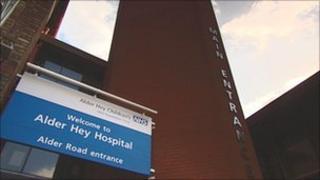 Nurses have raised concerns over possible changes to mental health services at a Liverpool hospital.
A three-month consultation period is under way at Alder Hey Children's Hospital, focusing on a restructure of the department.
The Royal College of Nursing (RCN) said it could mean 29 job losses and a reduced service for young people.
The Alder Hey Children's NHS Foundation Trust said the changes would improve mental health care.
It said compulsory redundancy would be a last resort and no final decision would be made until the 90-day consultation is over.
In a statement, it said: "As part of our aim to become a registered mental health service, Alder Hey is fully committed to strengthening its existing service.
"We therefore invited another experienced mental health trust to review our current service. Although they found evidence of excellent best practice, their recommendation for strengthening the service was to consider a restructure.
"The benefits of restructuring the current service include increasing clinical capacity, establishing a clear management structure and increasing Alder Hey's credibility with commissioners, while improving efficiency and quality of the service."
Paul Wood, RCN officer for the North West, said nurses were concerned about plans to restructure.
"Their reaction was disdain at the proposals being made because what we are seeing is the reduction in the staffing as well as a down-banding, which ultimately is just going to impact on patient care.
"There is no real explanation within the proposals as to how we would maintain the service that is being delivered in Liverpool and Sefton."