Liverpool Everyman Theatre launches funding appeal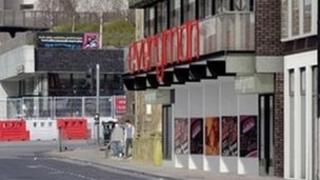 The Everyman Theatre in Liverpool is asking the public to help raise £1m to complete building work and support new local talent.
Funds raised through the Everyone for Everyman Appeal will go towards the £28m redevelopment of the theatre in Hope Street, due to reopen in 2013.
Money will also support new talent including actors, writers, technicians and directors in the city.
The announcement was made at a ceremony marking the start of the building work.
Everyman and Playhouse executive director Deborah Aydon said: "We have raised 98% of the funds needed to complete the building, and are now asking those who love the Everyman - and we know there are a great many who do, very passionately - to play their part in making the new theatre the best it can be.
"The new building will be a wonderful thing, but it is not the end of the story - its the beginning of the next chapter.
"Funds raised through the Everyone for the Everyman appeal will also support the writers, directors and designers of the future, so that the new theatre will be an exciting creative hub for many decades to come."
People who donate more than £500 will be able to name a seat in the new theatre and all money donated up to the first £250,000 will be matched by the Esmee Fairbairn Foundation.