Paul Burrell: Caller 'threatened' Princess Diana butler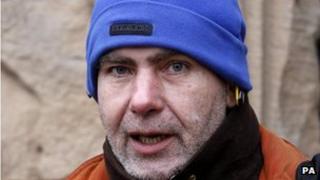 Former Royal butler Paul Burrell has told a court how a man phone him and warned him that his wife had been kidnapped.
Mr Burrell told Chester Crown Court the caller also threatened to torch his flower shop near Chester.
Recorder of Chester Judge Elgin Edwards ruled that Slav Mitev, 50, was unfit to plead due to his mental state.
The jury found Mitev, of Wood Green, London, guilty of putting somebody in fear of violence.
The case was adjourned for sentence and further psychiatric reports.
Mitev, a Bulgarian national, was granted conditional bail and ordered not to contact Mr Burrell or his family or enter Cheshire. He was also ordered to keep attending doctor's appointments.
Judge Edwards said: "It's a very sad case and has had a very upsetting effect upon Mr Burrell. The defendant quite irrationally seems to blame Mr Burrell for various matters which are not his fault."
'Wife threat'
At the start of the trial Mr Burrell, 53, explained how he received a number of phone calls to his shop in Farndon last June.
In one call, Mitev threatened to set fire to his shop, where Mr Burrell lived at the time.
The former butler for Diana Princess of Wales said: "The caller said 'have you got a pen because I want you to write this down. I am going to use an incendiary device. Do you know how much shattered glass there will be in your shop?"'
Asked by Gordon Hennell, prosecuting, if he took the call seriously Mr Burrell responded: "I certainly did."
Mr Burrell said that 10 years ago his previous flower shop suffered an arson attack.
He added: "I was very nervous at that point and thinking 'my goodness it's going to happen again'."
Another call by Mitev referred to his wife Maria.
Mr Burrell said: "I do remember this call because it was the most terrible. It started by him saying, 'Maria, Maria?'
"I said 'Maria is my wife's name'. And I said to him, 'you know that Maria isn't here'. I said 'she is in America'. He said, 'no she's not. Can't you hear her?'
"And what I could hear in the background was a woman sobbing and someone crying saying 'please help me, help me please'."
Mr Burrell added: "I can honestly say that I was sick to my stomach."
He phoned his wife who was at their property in the United States, to check she was alright.