Liverpool elected mayor: City set to drop referendum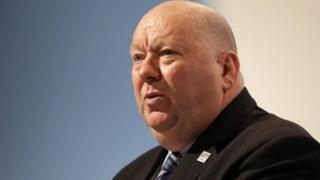 In Liverpool, a city where local politics has often made national headlines, councillors are again set to take their own route.
On Tuesday at an Extraordinary Council meeting, city politicians will consider using powers under the Localism Act 2011 to move to a directly elected mayor.
If the motion is carried Liverpool will skip a referendum on the issue - which other major cities will be holding - and instead run mayoral elections on 3 May.
The pre-emptive move by Labour council leader Joe Anderson fits the tradition of a city that has always ploughed its own furrow.
Opposition councillors are against the idea. Richard Kemp, deputy leader of the city's Liberal Democrats, has said "the people, not 90 councillors" should decide on what would be "the biggest change in governance of Liverpool since 1894".
Mr Anderson argues it is a "game changer" which would bring in about £130m of funding and devolved powers that "puts us ahead of Manchester and other cities".
'Hindered the city'
Liam Fogarty, a former BBC journalist, who has been campaigning for an elected mayor since 2006, calls the process "unseemly" and a "kind of dawn raid".
A May vote could leave independent candidates little time to organise an election campaign.
Mr Fogarty said: "For decades Liverpool's version of local party politics has hindered the city, it has held the city back.
"I do think there is an appetite among many people for a non-party independent voice.
"We have the lowest local election turnout in the country. Whatever our local politicians are doing they're not persuading great swathes of the population."
That "Liverpool version" has its roots in the area's unusual development of local party politics which grew along different lines to the rest of the country.
For the first half of the 20th Century, a sectarian divide split the working class vote between Conservative-voting Protestants and Labour-voting Catholics.
In an industrial city, Labour had to wait until 1955 before winning control of the council.
Liverpool's unique political history created an independent and personality-driven streak in local government.
Unpredictable electorate
In the 1980s the sharp-suited Derek Hatton never rose higher than deputy leader of the city's Labour council, but his battles with Margaret Thatcher's government gave him a larger national profile than the actual leader, John Hamilton.
Earlier, in the post-war period, the imposing figure of Jack Braddock held sway over the Catholic-dominated Labour group, while his wife Bessie was a Labour MP.
From the late 1970s the Liberals in Liverpool were led by Trevor Jones, known as "Jones the Vote" for his campaign mobilising tactics: the party pioneered driving voters to polling stations, for example.
Sir Trevor, as he became, laid the foundations for the Liberal Democrats' later success in the city. He retired as a councillor only in 2010.
The electorate is unpredictable, too. In 2010, while nationally Labour exited the stage and the Liberal Democrats entered government, with customary contrariness Liverpool voters ejected a Liberal Democrat administration, in favour of Labour.
With its historically strong sense of identity, Liverpool could be ripe for an independent to snatch the mayoral title.
'Rich fabric'
Already the city's rumour mill is churning out potential candidates including Brookside creator Phil Redmond and Royle Family star Ricky Tomlinson.
Tomlinson has said he is unlikely to stand as he "would lose my temper with some of the people you have to meet and greet and be diplomatic with".
Mr Anderson will contest the Labour nomination. Mr Fogarty has said he will stand as an independent.
The Liberal Democrats and Conservatives are yet to reveal who may be a candidate.
Hairdresser and businessman Herbert Howe, a local personality who featured in an ITV docu-soap, Shampoo, has announced his intention to down scissors and stand for election.
He said: "It should be someone who is impartial and loves the city as much as I do. I think I'm a man of the people."
Campaigner Mr Fogarty said: "Elections are a form of theatre and the idea that local celebrities will put themselves forward, make a splash and maybe come up with genuine ideas is a good thing.
"Eric Cantona is running for President of France; Lord Sutch tried to get into parliament. It is part of the rich fabric of politics."