Northamptonshire libraries could open on Sundays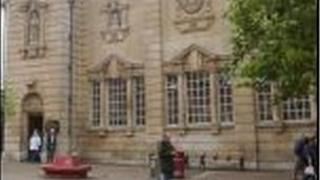 Plans to open Northamptonshire's libraries on Sundays are being considered by the county council.
Under the proposals, all libraries in the county, apart from Wooton Fields, would rearrange their opening hours to offer the service.
It is one of the ways the county council plans to promote the service in light of cutbacks.
The announcement comes a year after a council u-turn on plans to close eight of the county's libraries.
Grace Kempster, head of the county's library service, said the future for Northamptonshire's libraries was bright.
"We have got more people taking out books, more people joining, more people coming in. It's bucking the national trend," she said.
"It's because we have got good convenient opening hours. We have got a service that is relevant."
The additional hours to open on Sunday would be taken from other days in the week - in some cases the libraries would close on Mondays.
Corby Library has successfully piloted Sunday openings since November 2011.
Mrs Kempster added: "Under proposals that we have got out we would like to see if we could extend that and see if we could have Sunday afternoons as part of the normal library hours."
Residents can have their say on the plans until 12 March.