Northamptonshire man jailed for starving pet dog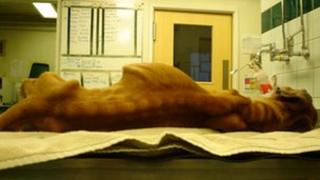 A 45-year-old man from Northamptonshire whose starving dog resorted to eating clothing including a zip and buttons before it died has been jailed.
Vets estimated that the skeletal young mastiff had not eaten for between seven and 14 days, Wellingborough Magistrates' Court heard.
Earlier this week Robert Hickford, of Wellingborough, admitted causing extreme suffering to the dog.
He was sentenced to 12 weeks in prison and was banned from keeping animals.
RSPCA officer Polly Underwood said: "I saw the dog when I was called to the vets. His body was very emaciated, you could see every bone."
Vets decided to put the animal down as it was in such pain.
The court heard that Mr Hickford, of Nest Farm Crescent, had told the vet that the animal had become unwell in 24 hours, but later pleaded guilty to causing the animal unnecessary suffering.
The ban was put into action immediately and Mr Hickford's two cats were taken away from him.
Ms Underwood said: "He has complied with the order so far and we will take measures to ensure that he does not keep a pet for the full 10 years that the ban is in place."