Rhys Jones witness in £80k payout after identity revealed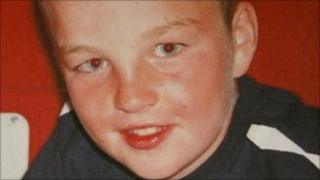 A witness in the Rhys Jones murder inquiry has been given £80,000 in compensation after his identity was revealed by Merseyside Police.
The man gave information to the police following the 11-year-old's murder in August 2007, on the basis he would not be identified.
But his name was passed to solicitors acting for the gang who stood trial over the killing.
Merseyside Police declined to comment citing legal reasons.
Rhys Jones was shot dead in the street as he walked home from football practice in Croxteth, Liverpool.
He was shot in the neck in the car park of the Fir Tree Public House in Croxteth Park and died in his mother's arms a short time later.
Sean Mercer, of Croxteth, was jailed for life in December 2008 for the murder after a lengthy police investigation and scores of arrests of gang members across Liverpool.
Six others were convicted of helping Mercer dump and destroy the evidence.