Holocaust doll from Bergen-Belsen restored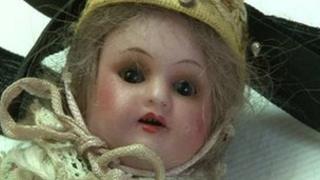 A doll that was found among the rubble of a German concentration camp in 1945 has been restored in the hope it will go on public display.
It was found at Bergen-Belsen by Major Margaret Jump, from Southport, Merseyside, a nurse in Queen Alexandra's Royal Army Nursing Corps.
She helped liberate the camp, where Anne Frank died.
Maj Jump's niece, Sue Hedges, wants the doll to go to a museum, so children can learn about the Holocaust.
She said the doll was "a reminder that these things should never happen again".
The doll, named Gretchin, was found in a trunk a few years ago after Maj Jump had died.
'Get goosepimples'
Ms Hedges said she became "very emotional" when she thought about what might have happened to the child who had owned the doll.
"Goodness knows what happened to that little girl," she said. "Typhoid was rife in Belsen: was she taken ill, did she go to the gas chambers? Anything could have happened to her."
Jeannie Graham, from Burscough in Lancashire, restored the doll in its Czech national dress.
She said: "I get goosepimples every time I take her out of her box, knowing where she came from. I feel really humble working on her.
"There were a lot of people who suffered in Belsen, a lot of them children, and we should never forget them."
Liberated by Allied troops in 1945 and later razed, Bergen-Belsen began life as a prisoner-of-war camp.
From 1943 until the end of World War II it was a concentration camp for Jews, with an estimated 125,000 people held there.