Southport murder suspect Barry Morrow found dead in cell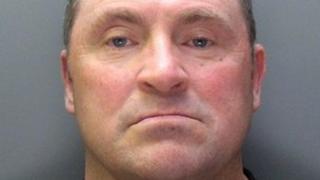 A lodger accused of murdering his landlady and her mother in Merseyside has been found hanged in prison.
Barry Morrow, 52, was discovered in his cell at HMP Manchester on Thursday afternoon.
He was awaiting trial for the murders of Angela Holgate, 54, and Alice Huyton, 75, who were found at Ms Holgate's Southport home on 3 December.
Greater Manchester Police said a post-mortem examination was due to take place later.
Mr Morrow, from Burnley, Lancashire had lodged at the house in Fairhaven Road, Marshside, with Ms Holgate, a divorced mother of two adult daughters.
International search
The Avon saleswoman had been ill and had not been seen out of the house for a week before she died.
Mrs Huyton, who also lived in Southport, had called at the house on 2 December to visit her but suspicions were raised when she failed to return.
Police were alerted when Mrs Huyton's son-in-law found their bodies.
Post-mortem examination results showed that Ms Holgate and Mrs Huyton died of asphyxiation and that Mrs Holgate had died some time before her mother.
A Europe-wide search was launched for Mr Morrow when it emerged Ms Holgate's white Citroen car was missing from the drive and he had been spotted driving it in Calais.
Five days later he was arrested in the UK on suspicion of murdering both women.
He had been remanded to HMP Manchester, formerly known as Strangeways, until 19 March when he was due to enter a plea.
Following Mr Morrow's death, the family of Alice Huyton and Angela Holgate said: "We are still grieving for the loss of Alice and Angela, two very special ladies who touched the lives of all who knew them.
"This news will not bring them back, but we feel this is an admission of guilt by Barry Morrow by taking his own life.
"It is the wrong type of justice we were looking for and it doesn't make us feel any better as his death has left a lot of unanswered questions."
Police had said they were "keeping an open mind" about the motive behind the killings and said the house did not appear to have been burgled.
It is understood Mr Morrow pleaded guilty last year to assaulting a woman from Southport, but the victim was neither Ms Holgate nor her mother.
Second prisoner
A Prison Service spokeswoman said: "HMP Manchester prisoner Barry Morrow was found hanging in his cell at 2.18pm on Thursday, 9 February.
"Staff attempted resuscitation and paramedics attended but he was pronounced dead at 2.46pm.
"As with all deaths in custody, the prisons and probation ombudsman will conduct an investigation."
Mr Morrow is the second high-profile prisoner to be found hanging at HMP Manchester in recent weeks.
Paedophile Martin Smith, 46, whose partner is accused of murdering their children in Spain, was discovered by staff on 23 January and pronounced dead a short time later.
Smith, originally from North Shields, was jailed for 16 years in March 2011 for raping a girl aged under 16 in Cumbria.
His partner Lianne Smith is in custody accused of murdering their two children in Lloret de Mar, Spain.
The children were found dead in the Hotel Miramar in the resort on the Costa Brava on 18 May 2010.
Smith was extradited to the UK earlier the same month in connection with the rape inquiry.