New Wirral council leader Jeff Green wants all-party cabinet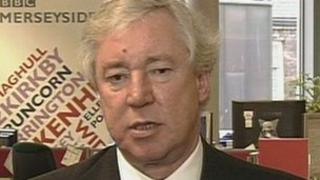 The new Conservative leader of Wirral Borough Council has said he hopes the deposed Labour group will join him in an emergency cabinet.
Conservative Jeff Green has replaced Steve Foulkes, after a vote of no confidence was passed by 36 to 30 votes at a council meeting on Monday night.
He is now offering Labour four places on the 10-member cabinet in an all-party administration.
Mr Foulkes said that would be "an impossible position for us."
He said: "To sit along as, if you like, passengers on a Tory-Lib Dem cabinet isn't a feasible position for any politician worth their salt.
Whistleblower issue
"They are ruthlessly political in everything they do. They are upholding and would never criticise the coalition government, even though the savage cuts they are inflicting on Wirral are unfair.
"So to sit idly by and work in a cabinet that actually does Wirral a disservice would be an impossible position for us."
Mr Green has said he wants to see whistleblower Martin Morton reinstated.
Mr Foulkes was criticised over the case of Mr Morton, who was forced to leave his job after allegations of malpractice in residential and care homes contracted by the council.
The council later had to apologise to the former employee and an independent inquiry was launched into his claims, carried out by public sector consultant Anna Klonowski.
Mr Green said: "When I meet again with chief officers, I want contact to be made with Martin Morton, and I would like him to have been given a job back with the authority and I mean that absolutely, that's what I expect.
"The other thing we'll do is we will work as hard as we possibly can to make sure that the council budget is put forward, is properly scrutinised, and if we can reduce it then I think we should."