John Webster fined for St Helens gas explosion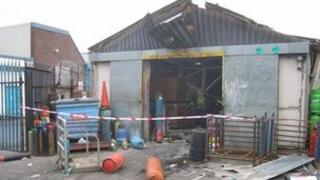 The boss of a St Helens gas supply firm has been fined £22,500 after an explosion in which he and an employee suffered multiple burns.
John Webster, director of North West Gases Ltd, had been removing the valve of a liquefied petroleum gas cylinder on 10 April, 2008 when it ignited.
The resulting fire and explosion set Webster's clothing on fire and another worker was thrown across the building.
Webster was found guilty of a breach of the Health and Safety at Work Act.
'Down to luck'
The explosion lifted the roof off the building in Alma Street, St Helens. A third employee sustained minor injuries.
Webster, of Archer Grove, St Helens, was fined £22,500 and ordered to pay prosecution costs of £2,500.
Health and Safety Executive inspector Warren Pennington said: "Mr Webster's failure to carry out even the most basic of safety checks led to what was an entirely preventable incident.
"He failed to ensure that the cylinder was empty and didn't check for any potential sources of ignition in the building, any of which could have caused this explosion.
"In this case, the fact that no-one was killed was simply down to luck."