Liverpool hospital trust cuts infection rates by 80%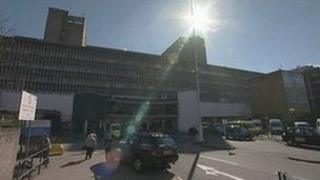 A hospital trust has been named as a centre of excellence in infection prevention after it cut cases of infection by more than 80%.
In 2008, the Royal Liverpool and Broadgreen University Hospitals NHS Trust was one of the worst in terms of infection control.
Following work on cleaning standards, it has reduced cases of Clostridium difficle by 80.5% and MRSA by 86%.
The trust said the reduction had saved about £2.3m.
The trust was forced to take action after being named as one of the poorest performing in the UK in terms of controlling infectious diseases in hospitals, which had an impact on both patient health and the trust's budget.
A prolonged outbreak of Norovirus across three months in 2007 saw patients taking an extra 1,770 days in bed and the trust lose about £708,000.
The problem saw the trust invest in cleaning standards and implement a hydrogen peroxide mist technology, which sprays a low concentration of cleaning mist
Within four months of implementation, the trust had saved £650,000.
The director of infection prevention and control at the trust's Royal Liverpool University Hospital, Diane Wake, said she was "continuing to see significant falls in the number of C.diff and MRSA cases".
"With a greater emphasis on cleaning and cleaning standards, and the use of innovative area decontamination solutions, we have made tackling healthcare associated infections our top priority, and our current performance clearly shows that our efforts are making a huge difference," she said.
"We have gone from being one of the poorest to one of the best performing trusts in the country for infection control."
The centre of excellence title has been given by Advanced Sterilization Products, part of the Johnson & Johnson Family of Companies, which develops sterilisation techniques.