Cannabis farm worth '£2.5m-a-year' found in Bootle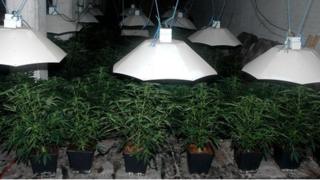 A cannabis farm which police believe had "an annual yield with a street value of more than £2.5m" has been found on Merseyside.
The "sophisticated production line" was discovered across several floors of an Effingham Street warehouse in Bootle.
More than 1,000 plants were recovered during the raid on Wednesday.
Insp Chris Burnham said it was "an excellent result" that would "take a significant amount of drugs off the streets of Merseyside".
No arrests were made at the property, which police believe has been in use as a cannabis farm for some time.
Mr Burnham said the force needed the help of residents who may have vital information about those involved.
"We take all reports of illegal drugs activities in communities extremely seriously and will take robust action to put an end to the criminal behaviour," he said.
"Cannabis and its associated crime brings misery to our communities and we are determined to put those involved in cultivating cannabis and other elements of the drugs trade before the courts."
The discovery follows a successful raid in January, which police said resulted in a £1m-a-year factory being found "just yards away" on Derby Road.