Hayley Holmes and Robbie Crofts drowned at 'very high tide'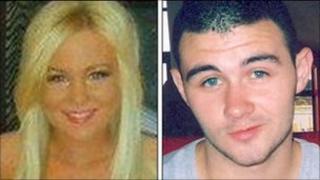 A young couple from Merseyside may have drowned after being swept into the sea during "ferocious" and windy weather conditions, an inquest has heard.
The body of Hayley Holmes, 17, was found by dog walkers near New Brighton promenade in Wirral on 29 August.
The body of her boyfriend, Robbie Crofts, 21, was discovered in the River Mersey on 11 September.
Wirral Coroner Christopher Johnson recorded a narrative verdict due to "inconclusive" evidence.
He said the couple both died as a result of drowning.
Two pairs of shoes were found on a slipway close to where Miss Holmes' body was discovered, along with a mobile phone and some money, the inquest heard.
Mr Johnson speculated that due to the way their footwear had been found, the couple may have gone "paddling" and were caught off guard by the "ferocious" and windy weather conditions.
He said: "Sadly all of that has to remain conjecture. We simply will not know."
Could not swim
The inquest heard that there was a "very high tide" that night, the second highest of the year.
Mr Johnson said the couple may have been standing on the slipway and been dragged out to sea by a wave.
The inquest at Wallasey Town Hall heard that the couple had spent the previous day together in Liverpool city centre at the Matthew Street Music Festival before making their way back to Mr Crofts' home in New Brighton.
Between 22:45 BST and 23:15 BST Mr Crofts sent his friend a text saying that he was with Miss Holmes and they were going to the beach. The couple was not heard from again.
The inquest heard that Mr Crofts, a care worker with a two-year-old daughter from a previous relationship, could not swim.
Both families attended the inquest but declined to speak to the media.