Questions over Vauxhall plant in Ellesmere Port after losses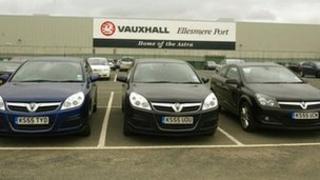 General Motors will need to take "rapid and decisive" action over huge European losses, says the firm's chief finance officer Dan Ammann.
He said the losses were ''unacceptable on a going-forward basis'' during a conference call on Thursday.
But does that mean plant closures? And if it does, is Ellesmere Port in the firing line?
In the North West we constantly remind ourselves that Ellesmere Port is one of Europe's most efficient car plants.
If not the world.
Why then would it appear on an admittedly speculative hit-list of possible plants for closure?
Ellesmere Port and Bochum in Germany were listed by ''unnamed sources within General Motors'' in the American media.
Figures I have been given would question the logic of this.
Bochum produce 30 cars an hour over three shifts a day. Ellesmere Port produce 47 cars an hour over two shifts a day. A company record.
But there is a problem.
The tail lights for the Astra come in from Czech Republic. The fuel tanks from Slovakia. Nuts and bolts from America and China.
Windows from Poland. But they are produced in Poland by Pilkingtons, a North West company.
This is a problem. It might be an incredibly efficient European car plant but is it in the wrong part of Europe?
Andrew Miller, Labour MP for Ellesmere Port and Neston, wants the government to introduce tax breaks to boost the components sector in the UK.
And while they are at it, how about more supportive procurement?
Four North West police forces have just ditched the Astra in favour of a cheaper South Korean Hyundai.
Who knows what will happen? The conference call with Detroit shed no light.
Dan Ammann quoted an American baseball manager Yogi Berra.
''It's tough to make predictions, especially about the future," he said.