Tommy Smith: Liverpool legend's medals fetch £137,000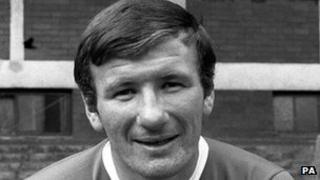 Medals and shirts won by former Liverpool defender Tommy Smith have raised £137,000 at auction.
Smith, 66, sold the prized collection of 75 lots, which included league title, FA Cup, UEFA Cup and European Cup winners' medals.
There was also a full England cap and 20 shirts worn during big games.
"I'm getting old and the money is of more use to me now than the medals. This is about me putting my family first," said Smith.
His collection went under the hammer at Bonham's Chester showroom.
Among the shirts up for grabs was the one he wore when he scored a rare headed goal against Borussia Mönchengladbach in the club's 3-1 European Cup victory in Rome in 1977.
Former Liverpool manager Bill Shankly once referred to Smith saying: "Tommy Smith wasn't born, he was quarried."
Smith joined Liverpool as a schoolboy in May 1960 and made his debut on 8 May 1963.
"I had a wonderful career but the memories I've got are more important to me than the medals and the shirts," he said.