Dead Southport women 'asphyxiated'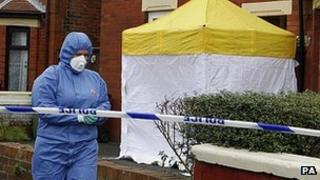 Two elderly women found dead in their homes in Southport were both asphyxiated, post-mortem examinations have revealed.
Margaret Biddolph, 78, was discovered in her Lonsdale Road home on Tuesday. Shortly after 88-year-old Anne Leyland was found at her house on Birch Street.
Merseyside Police have been granted more time to continue to question a 43-year-old man on suspicion of murder.
The families of both women have appealed for information.
Alex Biddolph and Anne Pearson, the son and daughter of Margaret Biddolph, thanked those who had already helped the police with their inquiries and urged others with information to "get in touch".
Mrs Leyland's son, Philip Leyland, said he wanted "anyone with information to come forward".
The Force Major Incident Team, which is leading the double murder investigation, has asked people who may have seen anyone acting suspiciously in Lonsdale Road or Birch Street in the last week to contact police.