Andrew Flood remanded over Southport women's deaths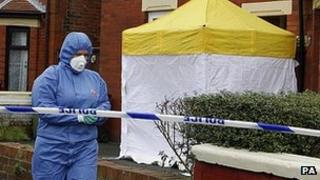 A Southport man has been remanded in custody over the deaths of two elderly women in the town.
Andrew Simon Flood, 43, appeared by video link at Liverpool Crown Court earlier accused of murdering Margaret Biddolph, 78, and Anne Leyland, 88.
Both victims were discovered in their own homes and post-mortem test results showed they died of asphyxia.
Mr Flood's next hearing at Liverpool Crown Court is on 16 March when he is expected to enter his plea.
Mrs Biddolph's body was discovered at her property in Lonsdale Road on 18 February and Mrs Leyland was found dead at her home in nearby Birch Street on 19 February.
Mr Flood is also charged with robbery in connection with an incident in Janes Brook Road on 18 February.