Liverpool FC museum buys Tommy Smith medal and shirts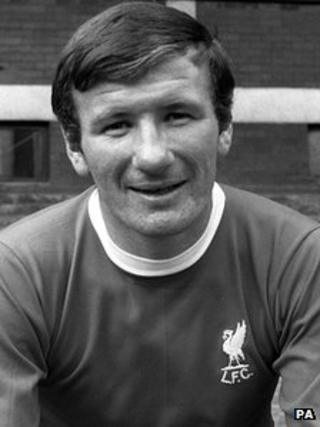 Liverpool Football Club has bought four pieces of memorabilia from former player Tommy Smith's collection to display in its museum.
Smith, 66, sold medals and shirts from his playing career at auction in Chester last week, raising £137,000.
Liverpool purchased the former defender's 1973 UEFA Cup winners' medal and three shirts gathered by Smith at European matches.
The shirts and medal will be displayed in the Liverpool FC Museum at Anfield.
Smith signed for Liverpool as a schoolboy and played for the club from 1963 to 1978.
When putting the memorabilia up for auction he said: "I'm getting old and the money is of more use to me now than the medals.
"This is about me putting my family first."
First European trophy
Museum curator Stephen Done told the club's website: "Tommy Smith's a legend.
"From the beginning of the 60s right up to 1978, this guy was there.
"You only have to look through this sale catalogue and it was completely overwhelming. He's an absolutely incredible character."
The UEFA Cup medal from 1973 was won when Liverpool beat Borussia Monchengladbach in a two-leg final, capturing the club's first European trophy, and the only European honour won by manager Bill Shankly.
The shirts purchased by the club are Borussia Monchengladbach player Rainer Bonhof's shirt from the 1977 European Cup Final, Jean-Michel Larqué of Saint Etienne's shirt from the 1977 European Cup quarter-final, and a jersey worn by a Barcelona player in a 1976 UEFA Cup tie.