Kane Wade choked on sweet waiting for ambulance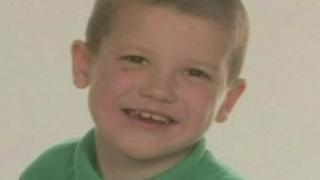 A 10-year-old choked to death as paramedics struggled to find his home because it was not on their computer system, it has been revealed.
Kane Wade died in June 2011 when a sweet lodged in his windpipe at a house in the Norris Green area of Liverpool.
Stephen Twigg MP, who wants to set up a meeting with ambulance bosses, said it took 13 minutes for help to arrive.
"It is a failure of the system rather than any individual paramedic, who I know did their best," he said.
"This is a tragic case and the family's big concern now is that this could happen to somebody else.
"Local ambulance services must have the most up-to-date information so nobody else has to go through the same ordeal."
Heimlich manoeuvre
Kane's father, Barry Ismail, 52, tried to save his son by performing the Heimlich manoeuvre, but by the time the emergency services arrived his heart had stopped.
Mr Ismail said the family felt "anger" and wanted answers about what went wrong so it did not happen to others.
He said: "We want to know the truth, we want to know what happened that day.
"This is a brand new estate, what happened to us could happen to anyone, our Kane could have been anyone's child on that day.
"Something went wrong and we need the answers."
The road was built in 2007 and has been in Liverpool's A to Z map since 2010.
A spokesman for North West Ambulance Service NHS Trust said: "The trust offers its sincere condolences to the family for their tragic loss.
"We have investigated this incident fully and shared the findings with representatives of the family.
"We will meet with them to talk through any further concerns, if requested."
A spokesman for Liverpool Coroner's Office said an inquest into the death had recorded a verdict of accidental death.