Everyman Theatre seeks shutter portraits from Liverpool people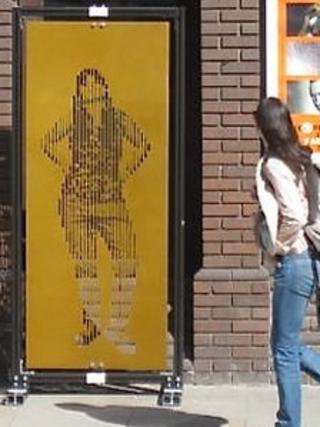 A Liverpool theatre is searching for 105 volunteers to have their life-sized portraits etched on the metal shutters of its new city centre building.
Liverpool Everyman is inviting people to take part in a photography session for the aluminium facade on 24 March.
Artistic director Gemma Bodinetz said the images will express "the very spirit of the theatre".
Pete Postlethwaite, Jonathan Pryce and David Morrissey all began their careers at the Hope Street theatre.
The Everyman, which was established in 1964, closed in July 2011 to allow its building to be demolished and a new venue built.
The images of the volunteers will be taken by Liverpool photographer Dan Kenyon and cut into the metal shutters by a controlled water jet.
'Bring a prop'
Ms Bodinetz said: "We're looking for 105 extraordinary people. And we believe everyone is extraordinary.
"This 'portrait wall' will form the defining signature to the new building."
Mr Kenyon said: "Anyone can turn up on the day, register and have their photograph taken.
"We want to get as many different people as possible - tall, short, big, small, young, old.
"People can wear their favourite clothes, costumes or bring a prop for their favourite hobby, for example, a football, musical instrument, book, hat."
The new Everyman is due to open in late 2013.