Everton goalpost handcuff man given Asbo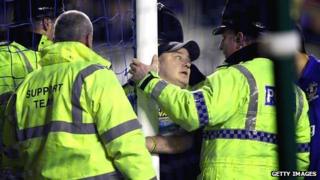 A man who handcuffed himself to a goalpost at a Premier League match has been given an interim anti-social behaviour order preventing him entering sporting events.
John Joseph Foley, 46, halted play for several minutes during the match between Everton and Manchester City at Goodison Park on 31 January.
He pleaded not guilty to entering the playing area of a football match.
The interim order will be in place until a full hearing on 23 April.
Under the anti-social behaviour order, Mr Foley is not allowed to enter or attempt to enter any venue which is holding a paid for sporting event, or a venue where an event is due to take place.