Crowds watch HMS Liverpool depart River Mersey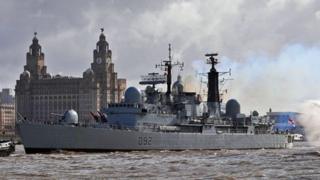 Crowds gathered along the River Mersey to watch the Royal Navy warship HMS Liverpool leaves its namesake city for the final time.
The Type-42 destroyer, built at Cammell Laird in Birkenhead, is due to be decommissioned at the end of the month.
The ship, which took part in operations off Libya in 2010, fired a five-gun salute as it sailed past the Royal Liver Building.
Thousands of people visited the vessel during its five day visit to the city.
The nearly 300-strong crew were awarded the Freedom of the City of Liverpool on a visit in February 2011.
'Exceptional Merseyside pedigree'
During its work off the coast of Libya the ship was the first Navy warship to be fired upon in 30 years.
HMS Liverpool's Commanding Officer, Commander Colin Williams, said: "This has been an uplifting and, at times, emotional visit to the ship's spiritual home.
"We have been thoroughly overwhelmed by the kindness and interest of Merseysiders and humbled by the support shown to crew and ship alike.
"We could not have wished for a better farewell celebration for HMS Liverpool's service within the Fleet.
"She has an exceptional Merseyside pedigree and this visit is one which will live long in my memory and that of my crew. We are extremely proud to have called Liverpool our home."