Southport great-grandfather wins £3.5m lottery prize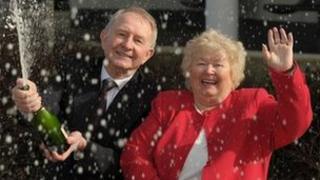 A great-grandfather from Merseyside has won more than £3.5m on the National Lottery.
George Keates, from Southport, said he hardly ever gambled and had only ever bought 10 lottery tickets in his life.
The 77-year-old, who has four sons, nine grandchildren and a great-granddaughter, plans to use the money to visit a friend in Australia.
He also wants to use the money from Wednesday's draw to buy a car and a bungalow with his wife Beryl.
Mr Keates realised he had won the day after the draw with the numbers 13, 14, 29, 41, 46 and 49.
"I rushed into the hall and told her [Mrs Keates] that I had won the lottery," he said.
"Everybody is screaming and shouting but I'm calm, I'm trying to keep her calm.
"I don't do it, I don't gamble at all. Beryl is a gambler, every time she goes to the races she does 10 horses."
Flying first class
Mr and Mrs Keates, who are both retired, said they had never had much money as Mr Keates had been made redundant from three different jobs during his working life.
Now they plan to fly first class to visit their friend Pat Ellis in Perth, Australia.
Mrs Keates, 74, said: "We have been over three times to Australia. She came over to see us and she had a stroke so they took her back on a plane. I have not seen her for a few years.
"We didn't think things like this happened to people like us."
The retired hospital worker said she played the lottery every week, but added: "I'm not lucky like him."
The couple said they had no plans to leave Southport, where they have lived all their lives.